Case Study - CSR initiatives of Forbes Marshall
Health Outreach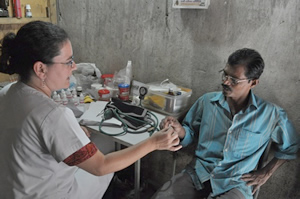 A special programme is designed to create health awareness in the neighbouring communities. Information on anaemia, hygiene, contagious diseases and HIV/AIDS is given by the community health workers.
Health check up camps is organized in these communities. Health awareness sessions are conducted for the community members.
Special camps are organized for blood check up, cancer check up, counselling and guidance is given to the needy.
Once a week a doctor goes to one of the communities to conduct a health camp for women and children and medicines are distributed.
Under the de-addiction activity, substance abusers are counselled, the family members also are given counselling services and special training programmes are organized for women from less privileged backgrounds.
Information sessions are conducted for the prevention of HIV and sexually transmitted infections in Government and private schools. Street plays are organized in the community on various health related issues.